Post by Serenity Forbes on Oct 5, 2017 20:05:08 GMT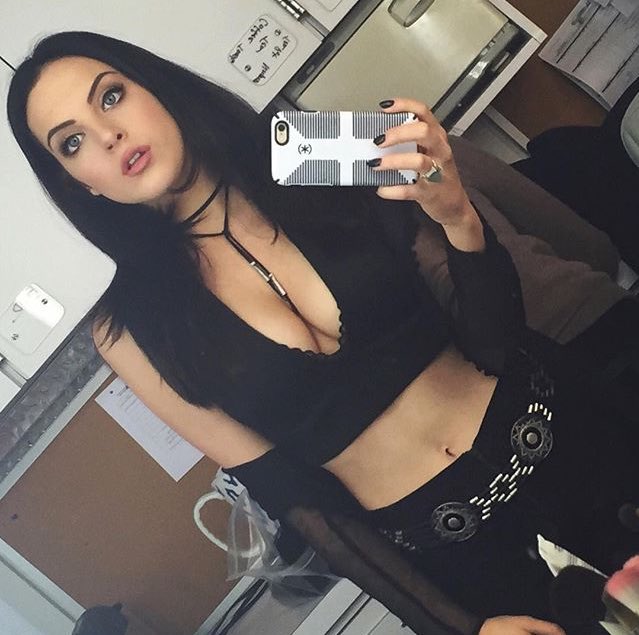 Elizabeth Gillies
BACKGROUND INFORMATION
Real Name: Karlina Owen
Ring Name: Karlina
Age/DOB: 18 (31st October 1998)
Height: 5'5
Weight: 138 lbs
Hometown: The Isle of Man
Twitter: @karlinaowen
PRESENTATION INFORMATION
Entrance Theme:
"Wish I Had An Angel" by Nightwish
Alignment: Egotistical heel, constantly values herself as not a star, or a big star, but as the ONLY star in SAKURA.
Gimmick Description: Singer who seeks to use wrestling as not only a way to promote her band Evil Eye but also as a hobby.
Manager/Valet: N/A
CONTRACTUAL INFORMATION
Promotion Status (Bold one or both)
Rose City Wrestling (Angled, Parent Promotion based out of Portland, Oregon)
SAKURA Pro-USA (Angled, Touring/Developmental Promotion based out of San Francisco, California)
Contract Status (Bold One That Applies)
Pay-Per-Appearance
This contract is given to the workers who will be the foundation of the company. While Seville cannot guarantee any written contracts at the moment, this style of contract assures the worker they'll be given consistent bookings and appearances for the company.
Touring Contract
Usually given to talents residing outside of Europe, this contract is a non-guaranteed deal for workers who are tentative about wrestling on a regular schedule for DOMINION, as well as workers who are clogged down with bookings from other promotions in the world.
WRESTLING INFORMATION
Wrestling Style: Constantly mouthing off to get in the head of her opponent(s) and uses her skills to take advantage of this. A fan of interacting with the people in attendance.
Years Pro: 0
Finisher(s)
-Neptune Plunge (Tilt-a-whirl stunner) -
example
Signature(s)
- Superkick, often proceeded with a double knee backbreaker
- Double knee backbreaker, often preceded by a superkick
- Running throwing snake eyes
Common Moves
- European uppercut
- Running knee strike
- Dropkick
- Wrist lock transitioned into a short-arm bicycle knee strike
- Northern lights suplex
- Snap dragon suplex
- Leapfrog transitioned into a one-handed bulldog
- Moonsault
- Diving dropkick to the back of an opponent's head
- Camel clutch
- Sleeper hold
- Boston crab
- Running tornado DDT
- Running or standing hip attack to the chest or stomach an cornered opponent
- Running or standing hip attack to a seated opponent
- Running senton
- Running European uppercut to a seated opponent
Taunts
- Falls backwards to the nearest corner and leans back against it while signalling for her opponent to get up (often used in buildup to her finisher)
- Smacks her own backside in a way to taunt either her opponent or the people in attendance
- Shouting profanities at the official whenever a decision doesn't go her way
OOC INFORMATION
Name: Peter Smith
Preferred Method of Contact: PMs or DM on Twitter