Post by Emi Yamamoto on Mar 9, 2020 10:40:00 GMT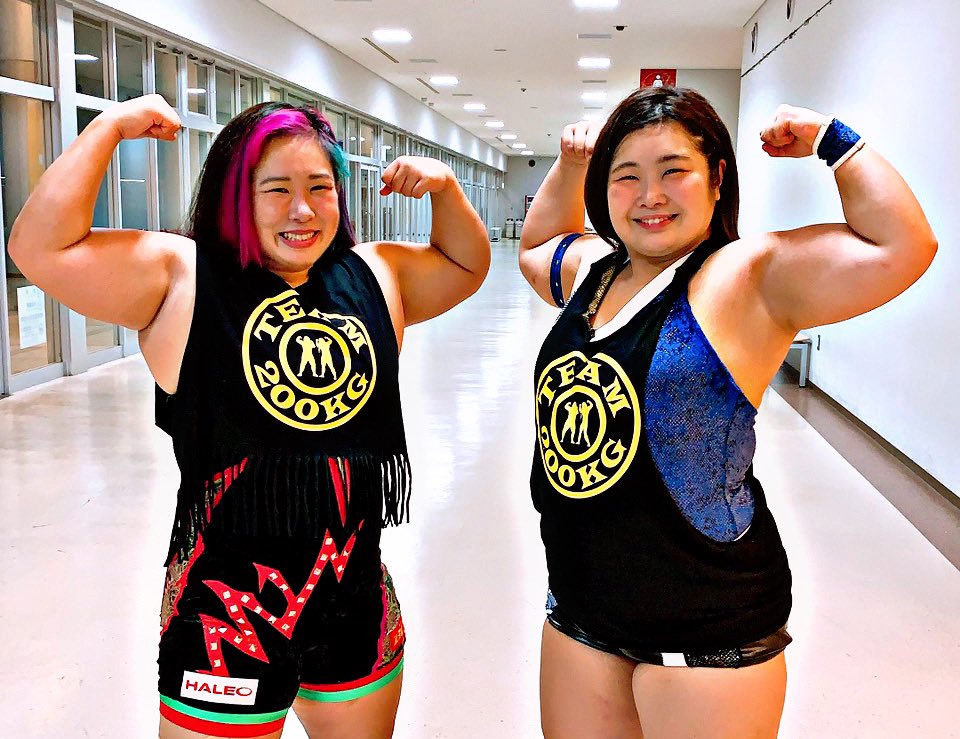 BACKGROUND INFORMATION
Tag Team/Stable Name: PowerBuff Girlz
Members: Shizuko Hitokage and Emi Yamamoto
Combined Height: 309 cm
Combined Weight: 360 lbs
Twitter:
@letsgoshizuko
and
@emiyamamoto1
PRESENTATION INFORMATION
Entrance Theme:
"Iine!" by BABYMETAL
Alignment: Face
Gimmick Description: More than just mentor and student, while Emi Yamamoto trained Shizuko Hitokage to be a wrestler, Shizuko helped Emi to regain confidence in herself and embrace her new body image. Although kind and friendly outside the ring, they both hold nothing back inside the ring, determined to do their very best and make everyone proud, including each other.
Manager/Valet: None
WRESTLING INFORMATION
Wrestling Style: Double Powerhouse (Shizuko is the most technical and agile, while Emi is a human battering ram)
Years As A Team/Stable: 0 (Emi and Shizuko have trained together for a year)
Finisher(s)
- Power-Plex (Wheelbarrow stunner into German suplex - Shizuko holds the opponent in a wheelbarrow, Emi hits them with a Stunner, Shizuko keeps a hold and finishes them with a bridging German suplex.)
- Double Power (Stereo powerbombs - Emi and Shizuko powerbomb their opponents at the same time.)
Signature(s)
- Look Out Below! (Pop-up splash - Emi charges at Shizuko, Shizuko pops Emi up and Emi falls onto the opponent.)
- Super Smash Sisters (Repeated body avalanches - Emi and Shizuko take turns to throw each other into the cornered opponent(s) multiple times.)
- Big Time Shizu (Assisted plancha - Emi drops to all fours, Shizuko launches off her back into an over-the-top-rope suicide dive.)
Common Moves
- Assisted senton (Emi drops to all fours, Shizuko launches off her back into a vertical senton on the opponent.)
- Girl Pile (Emi crushes the opponent(s) with a big splash, Shizuko dives off the middle rope and splashes onto Emi's back, crushing the opponent(s) even further.)
- Girl Sandwich (Both Emi and Shizuko charge at each other, squashing the opponent in between them.)
- Hang Time Emi (Shizuko dares Emi to dive off the turnbuckle for a diving splash, sometimes assisting her.)
- Stereo cannonballs (Emi and Shizuko cannonball two cornered opponents at the same time.)
OOC INFORMATION
Name: Michelle (Emi) and Aka (Shizuko)
Preferred Method of Contact: Twitter (both)